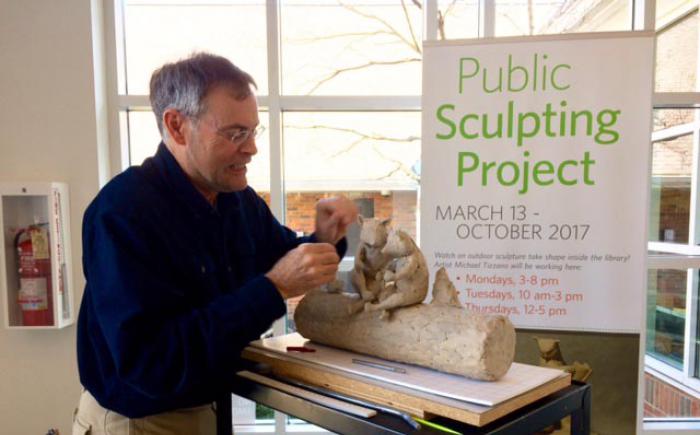 Outdoor art takes shape inside!
Have you heard? The popular woodland creatures from Worthington Libraries' last two summer reading clubs are about to be immortalized in bronze!
The Friends Foundation of Worthington Libraries commissioned sculptor Mike Tizzano to create Reading with Friends, featuring a raccoon, fox and owl sharing a book.
That's right, Winston (an owl), Ricky (a raccoon) and Asparagus (a fox) will be incorporated into a sculpture that, when finished, will be permanently installed outside along High Street at Old Worthington Library.
Commissioned by the Friends Foundation of Worthington Libraries, the sculpture will be a more realistic depiction of the three animals (rather than the cartoon-like critters featured on summer reading club materials), who will be seated on a log sharing books.
Starting March 13 you can watch the piece take shape— literally— as sculptor Michael Tizzano will be working on the exciting project in the library's lobby:
Mondays, 12-5pm
Tuesdays, 3-8pm
Thursdays, 12-5pm
Stop by to watch his progress and ask questions.
Tizzano's on-site work in the library is expected to continue through November, when the sculpture, called Reading with Friends, will be sent to a foundry in Baltimore, MD. The Library plans to unveil it at a public event in spring 2018.