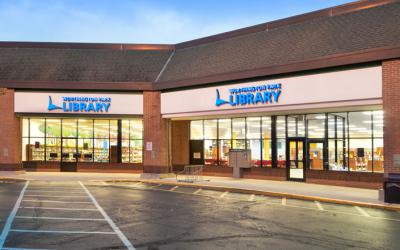 Worthington Libraries has announced plans to expand its Worthington Park Library (1389 Worthington Centre Drive) location.
First opened in 2008, Worthington Park is a storefront library located in the Worthington Park Shopping Centre. The library originally occupied 5,280 sq. ft. in the center and was first expanded in 2013. The current location is 8,383 sq. ft. The addition, into adjacent space previously occupied by a fitness center, will bring the library's total footprint in the center to 14,190 sq. ft. (5,807 sq. ft. of additional space).
The construction cost of this expansion is $1,038,876, with an additional management fee of $31,167 paid to the landlord of the shopping center.
When it opened in 2008, Worthington Park's collection focused on meeting the needs of children and families in the area. It contained the system's first Homework Help Center and a large children's collection. Since then, Worthington Park Library's annual circulation has increased 110 percent, going from 312,903 items in 2009 (the first full year it was open) to 658,088 items in 2017. This increase in use brought an increased demand for other library services.
The new expansion will include a dedicated teen space, larger meeting room, additional computers, an expanded adult collection and individual and group study rooms. It will also include additional gathering spaces, comfortable seating and a fireplace.
Worthington Libraries Director Chuck Gibson said, "With the additional space, Worthington Park Library will now be on par with both Old Worthington Library and Northwest Library in the services, collection and other amenities we will be able to provide. The community surrounding this location has been extremely supportive and patient as we have worked over the last 10 years to bring them the library they deserve. I am happy we will soon be able to meet their library service needs in this location."
Construction will begin in the next month and will be finished in spring 2019. It is not anticipated Worthington Park Library will be closed at any time during construction.