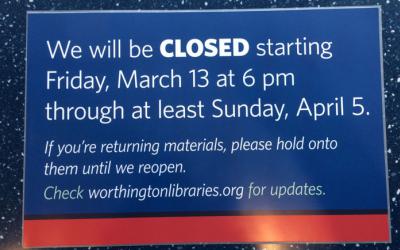 In response to Governor DeWine's call to limit public activity in an effort to mitigate the spread of the novel coronavirus (COVID-19), we have made the difficult but necessary decision to close all locations of Worthington Libraries after 6 pm tonight (March 13) through at least Sunday, April 5. This is an unprecedented but important measure to keep everyone in our community and on our staff healthy as long as possible. 
If you have library materials checked out, please keep them until we reopen. Due dates will be adjusted accordingly. Check the library's website or keep in touch with us via social media for updates. 
While our doors won't be open, you can still access library resources online.
We understand this is a difficult time for our patrons and their families. We hope to resume full service as soon as possible but will continue to abide by the recommendations of local and state health officials. 
In the meantime, please stay safe and be well.