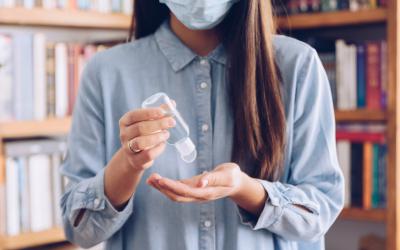 Worthington Libraries is reopening in phases. As part of our commitment to keeping staff and patrons safe as we continue to mitigate the spread of COVID-19, we are offering several no-contact and low-contact limited services, including curbside pickup, drive-up window and after-hours pickup lockers.
You can keep up-to-date with our hours and a frequently updated list of what you can do at the library by visiting our hours page, linked at the top of every page on our website.
We've taken a number of steps to ensure our libraries are safe and healthy environments for you and our staff:
If you are sick, we ask you to please stay home.
When entering the library, a mask is required for all visitors over the age of two years. If you don't have a mask, we can give you one when you enter. If you are not wearing a mask, we ask you to take advantage of our curbside pickup service, drive-up window and after-hours pickup lockers.
Library staff members will monitor library entrances and limit the number of visitors inside the Library.
Hand sanitizer is available at the library entrance and throughout the Library.
Floor markers are in place to help library visitors maintain safe social distance.
We offer a mobile app you can use to check out materials from your own device.
Styluses will be available for use at the self-checkout stations and will be disinfected after use.
Bathrooms have been updated with air purifiers as well as touchless faucets, hand dryers and toilet flushers.
Clear panels are in place at service desks where library visitors and staff members interact.
Library staff members take their temperatures before reporting to work and, while at work, wear face masks, observe safe social distance and regularly wash hands.
Library staff members work in teams to minimize exposure.
The Library opens in shifts, so surfaces can be thoroughly cleaned and sanitized between each shift change.
Returned materials are quarantined for seven days before they are handled by library staff or made available for other patrons to check out. Please note that items you return will show on your account during this time period.
While library services are limited, we offer a wide array of online services, such access to audiobooks, digital books, movies and music including many always available titles. You can get a library card without visiting in person—all you need is an email address. Wi-Fi access at all three of our locations is accessible from outside the buildings.
If you have a question or comment, we're still here for you! Get help by email, phone and chat.
We look forward to offering you more library services as our phased reopening continues. We thank you for your ongoing patience and support of the Library!