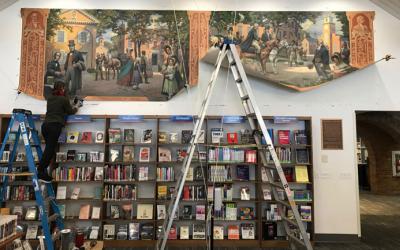 Although our buildings are currently closed to public access, when visitors are able to return to Old Worthington Library, they will no doubt notice something different: the Founding of Worthington mural has been removed.
The mural, created for City National Bank in 1963 by artists Louis P. Szanto and Andrew B. Karoly, is owned by the Worthington Historical Society, but was on permanent loan to the Library and displayed at Old Worthington Library for more than 20 years.
Commissioned during the tail-end of the Colonial Revival era, when Americans sought an aesthetic return to the oft-perceived simplicity of the past to combat present-day uncertainties, the three-paneled mural features scenes from Worthington's settlement in the early 1800s.
In the last few years, several library patrons have noted their unease about the mural being so prominently displayed in a public library, as it depicts not only a romanticized view of colonial America, but also celebrates a time period when Native Americans were being forcibly removed from their land and Black people were held in slavery.
Our initial response to these concerns was to create better didactic information for the mural, highlighting its problematic provenance and inviting discussion.
However, as the summer of 2020 brought an increased understanding and awareness of issues related to racial justice and systemic racism, we began to examine our own role in building an actively anti-racist community.
Our library board passed an Anti-Racist Resolution and agreed to the removal of the Founding of Worthington mural as a key first step in the process of building an anti-racist library. The mural removal was featured in a "Worthington Spotlight" column in August.
While we anticipated the mural would be removed while we were open, in full view of the public, the ongoing pandemic has necessitated our buildings remain closed to patron access at present. As such, the mural was removed over the course of a few days earlier this month. It was done by a professional, not damaged in the process, and will be returned to the Worthington Historical Society.
We know many people have a fondness for the mural-- it was in place for a long time!-- and will be saddened by its removal from the library, but it is important to us that our spaces reflect our strategic plan goal of making the experience of visiting our libraries warm and inviting for everyone.
And not to worry! The walls won't be blank for long. We are hard at work on a plan to replace the mural with art that will highlight the library's role as a community center for all.