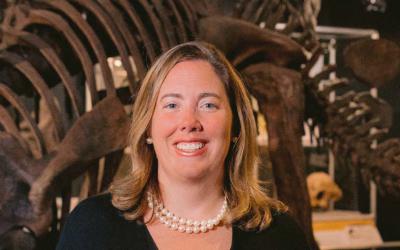 At an organizational meeting held on Tuesday, January 19, 2021, Abigail Poklar was sworn in as the newest member of the Worthington Libraries Board of Trustees.
Abigail Poklar begins a seven-year term that will conclude in 2027. She replaces Rochelle Wilkerson, who left the board in December 2020 at the completion of her term.
A lifelong resident of central Ohio, Poklar has lived in the Worthington School District for three years. She received a B.S. in Applied Communications and an M.S. in Marketing and Communications from Franklin University. She is currently employed at the Center of Science and Industry (COSI) in Columbus where she is the Vice President of Philanthropy and Institutional Alignment.
In her application to serve on the library board, Poklar wrote:
Our libraries are vital to the fabric of our community, not just nice, but necessary. I am committed to continuing to bolster our libraries as a community resource, providing opportunities for people of all ages to access resources and build relationships to grow and flourish. I look forward to the opportunity to make connections and garner support to enhance programming at our libraries.
In addition to Abigail Poklar, the library board is served by Lauren Fromme (president), Gary Sandefur (vice president), Tom Walsh (secretary), Kim Anderson, Joan Herbers and Adam Smith.