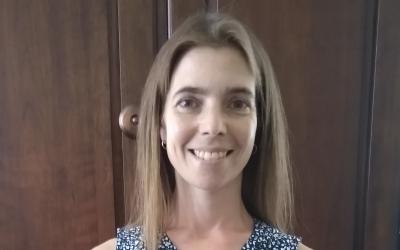 At a meeting held on Tuesday, January 18, 2022, Elizabeth Grieser was sworn in as the newest member of the Worthington Libraries Board of Trustees.
Elizabeth Grieser begins a seven-year term that will conclude in 2028. She replaces Adam Smith, who left the board in December 2021 at the completion of his term.
Ms. Grieser has lived in the Worthington School District for four years. She is active in the Colonial Hills Elementary PTA and the Colonial Hills Civic Association. She is a graduate of Washington University in St. Louis, where she received a Bachelor of Arts in Economics and Spanish. She earned her Doctor of Jurisprudence from The Ohio State University Moritz College of Law. She currently serves as Operations Manager for the League of Women Voters of Metropolitan Columbus.
In her application to serve on the library board, Ms. Grieser wrote:
I come from a family that has always been highly involved with libraries. My grandmother was a high school librarian and my mother was a long-time board member of the public library where I grew up. I spent alot of time in libraries growing up, and I've been continuing this tradition with my two young daughters.

I've come to realize that libraries in central Ohio are truly special in the number of amazing services they provide to the public. I believe the library is one of the best sources for creating an inclusive community that welcomes everyone to read, learn and grow.
In addition to Elizabeth Grieser, the library board is served by Gary Sandefur (president), Tom Walsh (vice president), Kim Anderson (secretary), Joan Herbers, Abigail Poklar and Lauren Fromme.