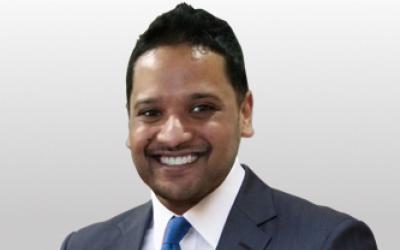 At a meeting held on Tuesday, January 17, 2023, Joseph Saverimuttu was sworn in as the newest member of the Worthington Libraries Board of Trustees.
Joseph Saverimuttu begins a seven-year term that will conclude in 2029. He replaces Lauren Fromme, who left the board in December 2022 at the completion of her term.
Dr. Saverimuttu has lived in the Worthington School District since 2015. He has coached basketball for St. Michael's School and served on the board of the Columbus Collegiate Academy.
Dr. Saverimuttu earned his PhD in Instructional Management from Robert Morris University. He also holds a Bachelor of Science in Marketing from Wheeling Jesuit University and a Master of Science in Industrial and Labor Relations from West Virginia University. He is a cofounder of Central Medical, which facilitates relationships between healthcare service providers and medical practitioners.
In his application to serve on the library board, Dr. Saverimuttu wrote:
As access to information faces continued scrutiny and challenges, I would like to ... help ensure all have the information available to become informed members of our community.
In addition to Joseph Saverimuttu, the library board is served by Tom Walsh (president), Kim Anderson (vice president), Joan Herbers (secretary), Abigail Poklar, Elizabeth Grieser and Gary Sandefur.