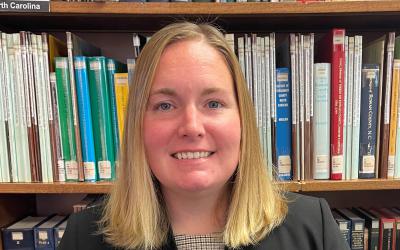 On January 3, I joined Worthington Libraries as only the 14th director in its 220-year history. That's an average of 15 years per director, so this is just the beginning of my journey here - and I am beyond excited about it! 
With this first director's message, I want to share a little bit about myself. 
I grew up in West Chester, Ohio and earned a Bachelor of Arts from Ohio University (Go Bobcats!) and a Master of Library and Information Science from Kent State University. I'm currently working toward a Master of Business Administration from Miami University.
Prior to joining Worthington Libraries, I was the director of the Preble County District Library for eight years. I learned so much there and really relished being in the community and building library services and collections to meet the needs of residents, but the opportunity to be the director of Worthington Libraries was too great to pass up! This library system has an impressive reputation both locally and nationally. Working here is a dream come true. 
My family moved to the Stilson Highlands neighborhood over the holidays. My husband, Mike, works at Miami University and our sons, Sam and Josh, are enrolled in Bluffsview Elementary (fifth grade) and Perry Middle School (seventh grade), respectively. We also have three dogs and a cat. It's a lively house! 
In my spare time, I enjoy true crime podcasts, science fiction/fantasy books and running. 
During my first few months as library director, I want to listen, learn and work with library staff and residents to determine what they value and what they need. I also want to meet as many people as possible! 
To that end, please join me at the annual community breakfast on Tuesday, April 25 at 7:30 am at Northwest Library. It's a great opportunity to hear more about the future direction of the Library with the added bonus of coffee and good food.