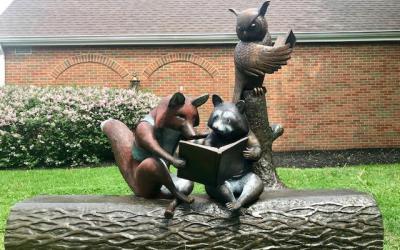 Worthington Libraries and Worthington Public Libraries United (WPLU), the library's labor union organized with the Ohio Federation of Teachers, finalized contract negotiations and ratified a three-year agreement as of March 21, 2023.
The contract includes provisions for paid parental leave, bereavement leave, tuition reimbursement and annual salary increases. 
Worthington Libraries Director/CEO Lauren Robinson said:
I am glad we have a contract in place, and I look forward to working with all staff to improve the library experience for both employees and patrons. Our staff was already among the highest paid in central Ohio, but adding additional benefits will make the Library a more attractive place to work for all employees, which will only benefit patrons.
Worthington Libraries Board President Tom Walsh stated:
I am proud of the staff and library management in reaching this agreement. Negotiating and arriving at a contract that meets the needs of all parties is not an easy process, but to be a successful one, it must be built on respect and trust by all sides. This process has reinforced everyone's commitment to creating a positive culture that in turn reflects our commitment to serving our patrons and the mission of the Library.
WPLU contributed the following statement:
We organized our union because we love our jobs, our library, and our patrons, and we wanted to make improvements that would allow more of us to stay at Worthington Libraries long-term.
Worthington Libraries currently employs 150 people and 104 staff members (or 69% of the total staff) are in union-eligible positions.