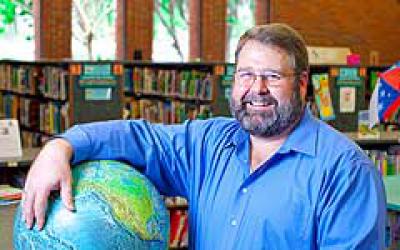 David Charles "Chuck" Gibson was born in Dodge City, Kansas. He has lived in Colorado, Arizona, Texas, Ohio and Georgia. He has served as director / chief executive officer of Worthington Libraries since August 2010.
In 1989, Chuck received a BA in History and Government with a minor in Geology from Adams State College in Alamosa, Colorado. He received a Master of Library Science degree from Emporia State University in Emporia, Kansas in 1995. Immediately after graduation, he was hired as the technology coordinator for Worthington Libraries.
In this position, Chuck created the first computer network for the Library, with 150 computers and access to over 100 electronic resources. In recognition for his expertise in constructing this state-of-the-art network, Chuck received the 1998 MCI Cybrarian of the Year award for the State of Ohio.
Chuck was promoted to associate director of public services at Worthington Libraries in 2002. He was responsible for adult services, youth services and the circulation departments at both Old Worthington Library and Northwest Library. He redesigned the library's public service model, reorganized the staff and created a centralized materials selection system. He also began the design development to reorganize the library's physical space.
He installed the first Ohio Public Library Information Network (OPLIN) T1 line and subsequently served on several OPLIN committees and as secretary for the Ohio Library Council IT Division.
Chuck was also very involved in the community, serving on the Minerva Park Village Council, where he was responsible for public safety, and on the board of the Worthington Area Chamber of Commerce.
In 2007, Chuck left Worthington Libraries to become director of the South Georgia Regional Library (SGRL) in Valdosta, GA. He was responsible for overseeing library operations in six facilities located throughout three counties. He managed several building renovation projects, updated all board policies, implemented a new finance system, reorganized the staff and standardized staff employment classifications. During his time as library director, circulation at SGRL increased more than 50 percent.
Chuck returned to Worthington Libraries in 2010 as Director/CEO. Under Chuck's leadership, the library passed a much-needed operating levy in 2013 and expanded the size of Worthington Park Library.
Chuck serves on the board of the Worthington Area Chamber of Commerce and is an active member of the Dublin-Worthington Rotary Club. In 2018, he spearheaded an initiative to collect and deliver children's books to remote areas of Mongolia. He also serves as a member of OCLC's Global Council and is an active member of the national library community.
His hobbies include photography, travel, computers and gadgets, reading and cars.