History
Old Worthington Library is Worthington Libraries' oldest location. Since its founding in 1803, Worthington Libraries operated from four different locations in historic Old Worthington before establishing the Old Worthington Library in its current location. Groundbreaking for the Old Worthington Library took place on July 4, 1978 and Opening Day was October 21, 1979. In addition to its public services, the Old Worthington Library houses Administration, Technical Services and Technology departments that serve all Worthington Libraries locations.
Finding us
Old Worthington Library is situated in Old Worthington, one block north of the intersection of High Street and Dublin-Granville Road (US-23 and OH-161).
Old Worthington Library's nearest COTA bus stops are at High Street and Stafford Avenue, directly in front of the library. The COTA stop numbers are 1235 (northbound) and 1254 (southbound) on the ‌102 Polaris Pkwy./N. High Standard line.
Parking
Old Worthington Library has three dedicated parking lots. A lot adjacent to the library's north entrance, via Stafford Avenue, offers accessible parking for those with disability plates or placards. Parking is also available in a lot adjacent to the library's south entrance, via Hartford Street, and a lot off Stafford Avenue, across the street from the Library and east of the Re/Max lot. Street parking is also available, along with a few angled parking spots on Stafford Avenue and Hartford Street bordering the ball field.
Bike racks are available at both the north and south entrances.
820 High Street
Worthington, OH 43085
United States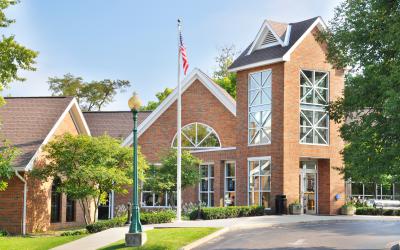 Manager

I am the library manager at Old Worthington Library. I love books that make me laugh, spend time in other (sometimes non-existent) worlds and make me feel all the things. When I'm not at the library, you can find me baking, puttering around in my garden and hiking/biking around Ohio.
Get in touch