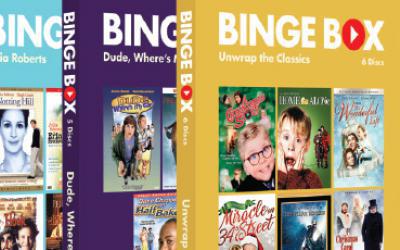 You provide the popcorn, and we'll do the rest!
Get cozy on the couch with Binge Boxes, a binge-worthy box of movies based on a theme: Can You Dig It? (movies of the 1970s), Dino-Mite Movies (dinosaur movies for kids), Don't Go in the Water (shark movies for adults), Something Sappy (romance movies) and more.
Borrowing period
7 days for fiction movies; 14 days for nonfiction movies
Borrowing restrictions
Binge Boxes can be reserved by cardholders from any Central Library Consortium member library.
May be renewed, if no one is waiting.
Recommended for
More like this