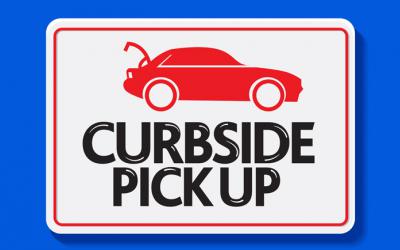 No-contact, curbside pickup of reserved items is available now, starting with reserved items that have been waiting on our shelves since the library closed in March. Eligible patrons will receive an invitation to schedule a pickup time.
To pick up held items, you'll need to register for a 30-minute timeslot with your name, phone number, library card number and a few details. When it's time to pick up your reserved items, pull up to the marked parking spots. Once safely parked, call us at 614-807-2626 and provide your name, parking spot number and the make of your vehicle. We ask you to wait in your vehicle while we verify your library card number and check out the items to your library card. We will deliver your items directly to your vehicle. After reserving your pickup time, you will receive an email confirmation and, later, an email reminder with these instructions.
A few things to note:
To start, curbside pickup is available by invitation only. We will email or text eligible patrons if they have items to pick up.
Items must be picked up at the location where they are currently held. If you have items held at more than one location, you will need to schedule separate pickups.
If you have items held for more than one library card in your household, just let us know when you schedule a pickup and we can deliver items for all cards.
We are only able to deliver items already held on our reserve shelves; we cannot check out new items for you at this time.
For your safety and the safety of library staff, we are unable to accept returns or payments by curbside pickup.
We are unable to accommodate unscheduled pickups at this time.
Thank you for your patience! We will be happy to see you back at the Library and to finally get you your library items!