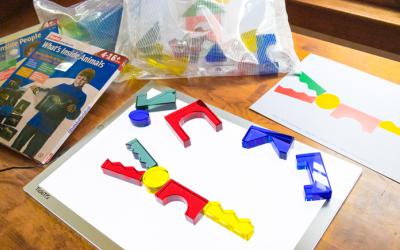 Let there be light-- build, create, see animal skeletons!
Get creative with this versatile kit!
Kids can practice letter recognition by using the included translucent pieces to build letters of the alphabet on the lightboard. Brightly colored acrylic blocks have a variety of uses; included cards offer guidance for constructing a crocodile, rocket and more, or just design a pattern. Flip on the lightboard and use the included plastic cards to see the insides of animals and humans!
Borrowing restrictions
Lightboard kits can be reserved by Worthington Libraries cardholders.
Must be picked up and returned to a Worthington Libraries location.
Renewals are not available.
More like this