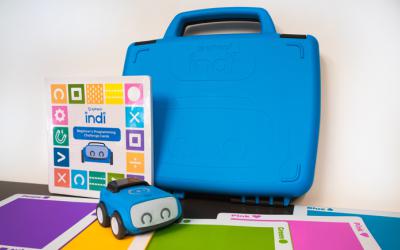 These robots aren't just fun to play with, they teach coding basics!
With indi, kids will have so much fun, they won't even realize they're learning!
indi not only teaches children ages 4 and up coding basics, playing with the robot also builds their problem solving and computational thinking skills. The little blue cars inspire and empower early learners to design and build their own mazes, all without a screen.
Kit includes a Sphero indi car, color tiles, programming challenge cards for beginners and a charging block and USB cable.
Borrowing restrictions
Sphero indi cars can be reserved by Worthington Libraries cardholders.
Must be picked up and returned to a Worthington Libraries location.
May be renewed, if no one is waiting.
Recommended for
More like this