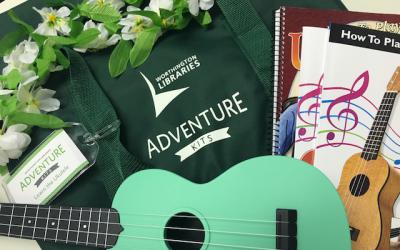 Add some adventure to your life!
Ready to add a little adventure to your life? Make the library your first stop!
We've taken some of the best adventures we could think of, such as going on an outdoor excursion or learning to play an instrument, and created Adventure Kits, available for checkout at all three Worthington Libraries locations.
Current kits include:
Road Trip for Adults
Road Trip for Families
Birding for Adults
Birding for Families
Camping for Adults
Camping for Families
Color Me Relaxed
Nature Walk
Learn Magic for Families (Abracadabra, Hocus Pocus, Classic Tricks)
Learn to Sew
Stargazing
Ukulele
The Nature Walk kit, for example, contains binoculars, field guides, a bug viewer and sketch book. The Ukulele Kit contains a ukulele, tuner and books on how to play.
Borrowing restrictions
Adventure kits can be reserved by Worthington Libraries cardholders.
Must be picked up and returned to a Worthington Libraries location.
Renewals are not available.
More like this