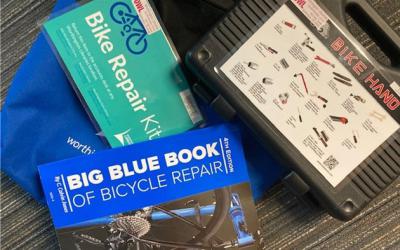 Ready to roll? Kit can help keep your bike in tip-top shape
Although bicycle technology continues to become more sophisticated, common problems can often be solved with a little knowledge and attention.
Fix a flat tire with the patch kit and portable air compressor and reattach a slipped chain or tighten loose bolts using the assortment of wrenches and other hardware in the handy tool kit.
Included is a tool kit, portable air compressor kit and bike repair book.
Borrowing restrictions
Bike repair kits can be reserved by Worthington Libraries cardholders.
Must be picked up and returned to a Worthington Libraries location.
Renewals are not available.
More like this