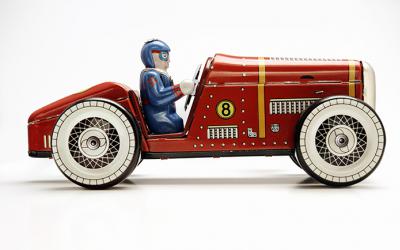 General resources
Books
General books about antiques and collectibles can be found in the 745.1s in both the circulating and reference collections. Books about selling items online, including antiques, are in the 658.87s. If you are trying to find local antique shops, you can look in the Yellow Pages, on directory sites such as 411.com or by going to search engines such as Google and searching for the word "antiques" plus the name of your city or ZIP code (e.g., "antiques Worthington Ohio").
Magazines
Magazines can be found in alphabetical order in the periodicals area.
General price guides
Bear two things in mind as you use these price guides: 1) People selling to dealers can expect to get prices below market value and 2) A multitude of factors affect actual prices. These sources can only give you a general sense of an item's worth.
Specialized identification and price guides
The Library has many price guides to specific antiques and collectibles. Unlike books that cover antiques and collectibles in general, which are in one place (the 745.1s), these specific guides can be found throughout the collection in relevant subject areas. Books about collecting jewelry are with the jewelry books, books about collecting religious memorabilia are with the religion books, etc. Below, you will find a selection of specialized guides. To find more, ask a librarian for help or check the catalog by entering the subject heading, "[Topic] Collectors and Collecting." For example: Furniture Collectors and Collecting. It is possible that you may not find an entire book devoted to your particular collectible. When this is the case, look in the indexes of more general books for pages or chapters devoted to your topic.
Care and restoration
Books that cover care and restoration in general can be found in the 745.1028s. Books that cover the care and restoration of specific objects can be found throughout the collection in relevant subject areas.
Appraisers
Appraisers are another source you can turn to when trying to get a sense of an item's value. Some professional appraisal organizations maintain lists of members on their websites. Take a look at the home pages of the American Society of Appraisers and the International Society of Appraisers to find a local professional.
Appraisers can also be found in the Yellow Pages under "Appraisers," or by using search engines such as Google to search for appraisers plus the name of your city or ZIP code (e.g., "appraisers Worthington Ohio").
Bear in mind that there are many different kinds of appraisers. Before you consult an individual, make sure she or he has experience with antiques and collectibles. And don't forget, professionals usually charge a fee for their services.
Additional online resources
Many online resources offer links to sites providing related information and are frequently updated.
More like this